I'm standing at the entrance to my Labyrinth.
I've been drawn here by forces unseen.
Have you ever walked one? There is one way in and the same path out. No dead ends, just a winding, set, non-direct, yet direct path leading in and back out.
The idea is to stand at the entrance with a question in your heart and mind. You then walk the labyrinth meditating on that question and as you go you gain insight and knowledge. When you arrive at the center you pause in gratitude for the answer(s) before you begin your meditation on the walk back out.
Sometimes I just walk it in peace. No question. Just gratitude for the gifted moment of peace.
As I stand at the beginning, today, I search for the question I need to ask. The ones that come to mind seem silly and I have answers before I even step on the path.
I get the impression I'm just supposed to walk and the insight will come. No question needed.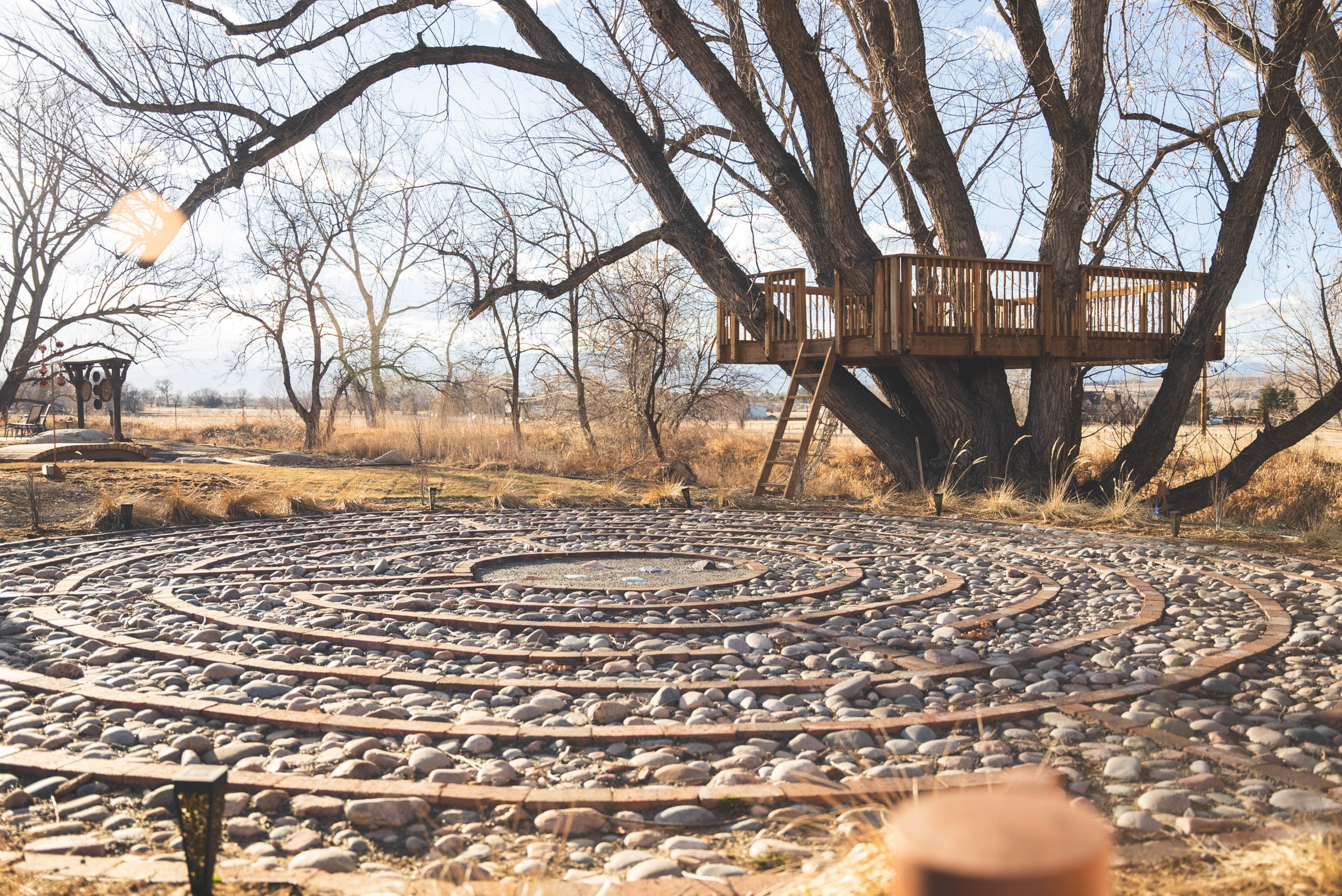 So I take a step.
I look down at my foot on the stones and see a weed. So I bend down and pluck it from its rooting home and then I see another one.
Initially, I'm dismayed as I think I'm just supposed to clean up the labyrinth and I wish there was a bigger purpose in my visit. I'm also wondering how long this is really going to take. I have a meeting coming up and weeding was not on my agenda. (I'm even wearing white pants!!)
I end up walking the labyrinth ever so methodically pulling weeds, removing the debris, and making the pathway easier and cleaner for my return.
And this is my answer.
My insight.
The response to my unasked, unknown question.
I've been at a crossroads. Unwilling to take the next step as I'm uncertain what it is and how hard things may get. I know the time for action is VERY near and yet I'm dreading how to take the next step and if it will just be to take another step back.
We've all been here. We find ourselves in a space where confidence needs to outshine fear.
We KNOW we have the ability and knowledge yet we're scared to shine and share our light.
The labyrinth itself was the work I've put in to gain knowledge and get to this space.
The weeds and sticks in my path were symbolic of the challenges I need to overcome to achieve success.
Some were really simple and easy to remove while others were a bit more challenging.
Yet every step was progress, every weed was removed and every stick and limb was cleared.
At my crossroads, I can choose the path which needs tending and love or take another road with less work and effort.
The beautiful thing is none of us have to go the path alone.
There is ALWAYS someone out there who believes in you and is willing to encourage and support you.
SO –
What do you need to help you remove the weeds?
What is the first step you need to take to plant a solid foot in your own corner of strength and success?
It's not a matter of getting from point A to Z… you only need to go to B, and then C, and then D…
It's like connecting the dots.
You can only move to 2 after you've touched on one.
Take a deep breath.
Remember you are a GIFT and have gifts to share with the world.
As Dr. Seuss said:
"You've got a brain in your head
And feet in your shoes.
You can Steer yourself
In ANY direction you choose."